New entrant to the 'smart court' industry, Wingfield, are providing an affordable approach to digitize any tennis court which improves the experience for players and coaches alike
Everyone who's watched a live tennis match on TV recently will have seen how the introduction of digital technology such as virtual line judges has drastically improved the experience for both players and fans but until recently this technology hadn't permeated through to the amateur game. Cost was a big problem as was the infrastructure required but now a German based provider with backing from non other than the Adidas family is looking to change the way tennis is enjoyed at the club level.
Wingfield, named after Walter Clopton Wingfield, who many credit as the founder of modern lawn tennis, are a "sports tech company that makes innovative tracking technology accessible to the broad amateur tennis community". Their Wingfield box is the "easiest approach to digitize your tennis courts and make innovative tracking technology accessible".https://www.youtube.com/embed/3J5a4VXLvNE
In a nutshell the Wingfield technology enables a club player to receive instant video and data from their practise session or match at their local club. The data is delivered on the court or through an app on your smart phone. The results are presented in user friendly formats and can literally tell you anything about your game from your first serve percentage to the average height over the net of every backhand you played down the line. It really is limitless. The app can also show you a complete video of your session recorded by the video camera on court high above the baseline.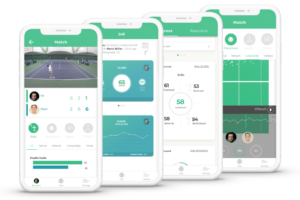 At a cost of £95 per month the investment needed from a club isn't going to break the bank but the benefits could easily help attract new members and more coaching sessions.
The founders are themselves ex-tennis pro's with a passion to help improve the game. Founder and CEO Maik says "The Wingfield Box keeps track of the score, analyzes your strokes, detects your weaknesses and gives you feedback right after your match or your practice session. No more frustration or cluelessness because you can t́ figure out what went wrong! From the average speed of your serve to a point by point video analysis of your game, the system provides you with all the information you need to improve your game."
Wingfield has already been used during Wimbledon's 2019 'Road to Wimbledon' where the finals on the grass courts of the All England Club featured Wingfield boxes allowing the junior competitors to analyse extensive data and video sequences from their matches.